Figma is undoubtedly one of the best applications for designing rich user interfaces and other 2d graphics, however, recent news said Adobe acquired Figma has led most Figma users to be concerned about the platform.
For those who are looking for Figma alternatives, we have a list of the best options to replace Figma that are open source and free to use.
Penpot
Penpot is the first design and prototype cross-platform that is open source and yet already becoming the best alternative to Figma (in my opinion). For those who are using Figma to collaborate with team when designing, Penpot allows you to do the same, for free.
Penpot Advantages over Figma
It's open source
Very similar to Figma, new users will have no difficulty in adapting
Web-based and supports SVG
It has the most basic Figma features
Collaboration feature for team with projects
Free to use, without any fee.
Penpot Disadvantages
There's no version control
New product, not as mature as Figma
It is still in Beta version, which is requiring user feedback
Not many plugins or community assets
Icons8 Lunacy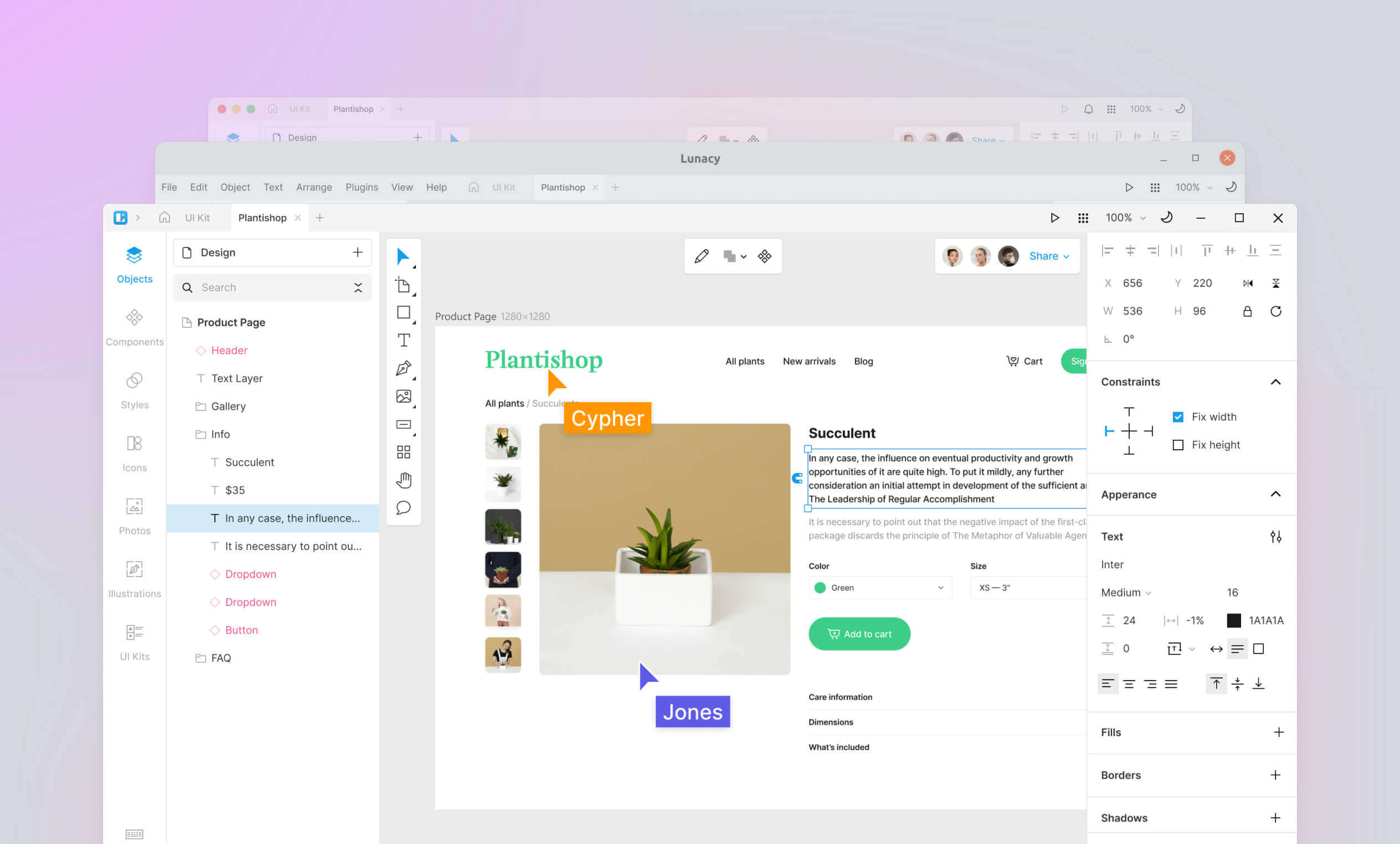 Lunacy is a user interface design tool offered by the platform that provides icons and graphics you already knew, Icons 8.
Lunacy Advantages over Figma
Support many design format that comes from Figma, Adobe XD, Sketch, Avocado, etc.
User interface that is very similar looking to Figma makes new users will face no difficulty to adapt Antarmuka aplikasi yang sangat mirip dengan Figma membuat pengguna baru mudah untuk beradaptasi
AI support
Integration with graphics and icons from Icons8
Terintegrasi dengan berbagai grafis dan ikon yang tersedia di Icons8
Gratis untuk pengguna individu
Free for individual use
Lunacy Disadvantages over Figma
Unlike Figma, Lunacy is a standalone app (requires installation, it's not a web-based)
Unlike Penpot, it's not an open source
It has a collaboration feature, but not free.
Wireflow
Wireflow is a design tool that focus on creating wireframe and user flow.
Wireflow advantages over Figma
Open Source
Many templates for getting started
Generates functioning code in real-time as you design.
Free to use
Most suitable for designing user flow
Wireflow disadvantages over Figma
Components are not customizable
It has no collaboration feature
A bit confusing
Again, just for designing simple wireframe and user-flow
Conclusion
Searching for the best alternative to a mature product like Figma is not easy, especially since Figma is a web-based application made with WebAssembly that allows it to have complex design features that are very light and powerful.
By far the best alternative to Figma is Penpot.app which is open source and with a similar interface and overall features.